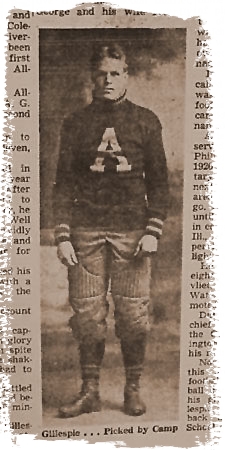 A.G. Gillespie, Retired General, Area's First All-American in '04

Flint has been proud of its modern All-American football players.
There was Lloyd Brazil at University of Detroit and Lynn Chandnois
and Don Coleman at Michigan State University. LIttle mention has been
made, however, about the first Flint area player to gain All-American mention.
In 1904, Walter Camp's All-America selections listed A.G. Gillespie at the
end of the second team. Gillespie, who went on to captain the 1905 Army eleven,
was from Gaines. He didn't play football in high school nor in his one year in college
at Ypsilanti. After receiving his appointment in West Point in 1902, however, he
went out for the team. Well built and co-ordinated, he rapidly overcame his
inexperience and was a three-year regular for Army. In 1905, Gillespie climaxed
his football playing career with a brilliant effort against Navy.

The New York Sun's account of the game related: "Gillespie, Army's captain,
covered himself with glory by many hard tackles in spite of the fact he received a
shaking up repeatedly and had to take time out to recover." The two service teams
had battled to a 6-6 tie in a game halted because of darkness with 10 minutes left
to play. After that final game, Gillespie returned to Gaines to attend the wedding of
his brother, George. (Now serving his seventh term as State representative from the
second district, George and his wife recently observed their 50th wedding anniversary.)
In making plans for his visit home, Gillespie called in a group of plebes and instructed
them to obtain a civilian overcoat which would fit him. The coat he wore to the wedding
was owned by a West Point plebe named George [S.] Patton.

In 1911, Capt. Gillespie was called back to West Point and was named end coach
on the football staff. A first-year end candidate he worked with was named
Dwight D. Eisenhower. After leaving West Point, he served in the Unites States,
Philippines and France. From 1920-22 he was assistant military attache in Tokyo.
For the next four years he was corps area ordnance officer in Chicago. He returned
to West Point until 1933, when he was placed in command of the Rock Island, Illinois,
Arsenal. While there he supervised development of the light tank. He then helped develop
the eight-inch cannon at Watervliet, N.Y., Arsenal. While at Watervliet in 1939, he was
promoted to brigadier general.

During World War II he was chief of industrial service of the Ordnance Dept.
in Washington. He remained there until his retirement in 1947. Now living in
Washington, this area's first All-American football player retained his football
interest here inasmuch as his grandnephew, Jerome Gillespie, was an outstanding
halfback at Grand Blanc High School last year.